Being a native of Tuscaloosa all my life, I have experienced any food that it has come to offer me. Throughout this time, I have seen the imperfections in the food industry in Tuscaloosa and what needs improvement. This is just a quick list of what in my opinion could drastically change the food industry here for the better by creating a more desirable, more satisfiable environment.
Family owned restaurants:
The first the thing that would improve the food here in town is to have more family owned restaurants versus chain restaurants. I believe family owned restaurants take more time in preparing the food and deliver a more flavorful dish. The cooking feels more authentic because they love what they do and take pride in their cooking and establishment. It would look better in town because each individual restaurant would have their own buildings and get to decorate as they want versus chain restaurants where every single one looks the same inside and out. The overall dining experience for us is more pleasurable than any commercial chain restaurant due to the care they put into each aspect of their restaurant.
Outdoor dining:
Outdoor dining is severely lacking in a town that has such a beautiful campus and is warm for such a majority of the year. I'm sure many people would love the option of sitting outside on warm spring night. Many restaurants in town already have roll-up garage doors on the front or side so it would be easy to incorporate outdoor dining into the restaurant when the weather is warm enough that they have the doors up. On the Strip and in areas like that it may not be feasible because they used all the space for buildings and you can't put tables and chairs on the sidewalk. However, for any new restaurants being built, I think they should make sure to leave room for outdoor dining because it would be a major attraction for them.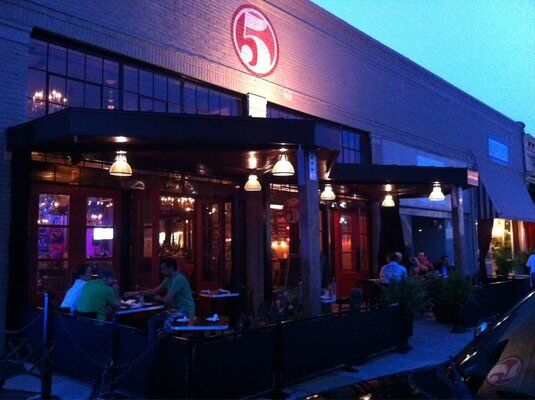 Food truck court:
A food truck court would be helpful for everybody because if there were a food truck court everybody would know where to go to find the food trucks every day. This also ties in with the outdoor dining because you would have a small area in front of the food trucks just for tables. In Pensacola, they have a food truck court just like this and it provided you with the opportunity to eat 5 or 6 different types of food by walking 40 feet to your left or right. The food trucks on campus can provide you with a higher quality food at almost the same speed as any of the other places to eat on campus. If you have a favorite food truck on campus you would no longer have to worry about it being at a location you can't go to that day because everything would be centralized and be in the same spot every day. Overall a food truck allows you the eater to eat more often at food trucks because you no longer have to deal with the inconsistencies of changing locations.
If Tuscaloosa were to implement some of these changes it would create a more inviting environment for all and expand the dining past what we currently have. These changes could create a more upscale feel in town without the sacrifice of the higher prices of very fancy restaurants. These changes may not happen anytime soon, but if they ever come I think they will be to the benefit of everybody.